Hey Readers,
Just a week, before A Court of Thorns and Roses #3 happens. It's time to gear up before a Sarah J. Maas book destroys us again. This is a master post featuring-
A little recap of what happened in A Court of Mist and Fury.
A Court of Wings and Ruin blurb.
Most famous quotes of the series till now.
Some more interesting stuff about the book.
Finally, some funny ACOTAR memes.
WHAT HAPPENED IN ACOMAF-
A Court of Mist and Fury picks up 3 months after the events of A Court of Thorns and Roses. Even though she is safe in the Spring Court, the new Feyre (now a fae) still hasn't forgotten what happened to her. Everyone is busy starting over and preparing for Feyre and Tamlin's Wedding.
During their wedding, Feyre has a bit of a breakdown seeing red flowers which reminded her of blood when suddenly Rhysand shows up and takes Feyre to the Night Court to continue with the bargain.
Feyre starts to like the Night Court and finds it much less terrifying than the Spring Court. She learns to read and write. She also sees Velaris, the hidden, beautiful and peaceful city of the Night Court.
Eventually, she agrees to join Rhysand. She meets with Rhysand's inner circle that includes Armen, Morrigan, Cassian and Azriel. They all soon get to know each other and Feyre is trained to fight.
They find out, after talking to the Bone Carver, that the King of Hybern is trying to take control of the Cauldron through which he can break the wall between the mortals and faeries. This could destroy Feyre's village and all the other humans. They plan to work against the King of Hybern.
Gradually, Feyre starts to develop feelings for Rhysand. There are multiple incidents in the book when Rhysand and Feyre stand for each other. Whether it was Rhysand saving Feyre when Tamlin locked her in or both of them helping each other through the nightmares. The together share their dreams and Feyre starts to trust Rhysand. She eventually gets to know from the Suriel that Rhysand is her mate. Later, she accepts the mating bond.
Feyre and Rhysand steal half of the Book of Breathings from the Summer Court. They try to take the help of The Mortal Queens to get the other half of the Book of Breathings. The try to gain their trust by telling them about Velaris, but the Queens betray them and Velaris is invaded by Hybern's army. However, Rhysand and his inner circles succeeds is keeping the city safe and put the ward back.
Finally, the Inner Circle decides to sneak into Hybern and nullify the Cauldron. Unfortunately, things go terribly wrong. They are captured by Jurian and the King binds their magic preventing them from using it. It turned out that Tamlin sold them out. Feyre's  sisters are turned into Fae as a proof to the Mortal Queens that the Cauldron can turn mortals to Fae.
Feyre, without anyone knowing, wields her own magic, finding the cracks in the magic that binds them. She makes Tamlin think that she wishes to go home with him to Spring. She begs the King to end her bargain with Rhysand. And he does. Or at least he thinks he does.
The bargain that she must visit him once a month is gone but their mental tie and their mating bond remains. Her friends escape back home with the Book of Breathings and take Feyre's sisters with them. Rhysand prepares for war while Feyre, the High Lady of the Night Court acts as a spy in the Spring Court.
A COURT OF WINGS AND RUIN BLURB-
Looming war threatens all Feyre holds dear in the third volume of the #1 New York Times bestselling A Court of Thorns and Roses series.

Feyre has returned to the Spring Court, determined to gather information on Tamlin's maneuverings and the invading king threatening to bring Prythian to its knees. But to do so she must play a deadly game of deceit-and one slip may spell doom not only for Feyre, but for her world as well.

As war bears down upon them all, Feyre must decide who to trust amongst the dazzling and lethal High Lords-and hunt for allies in unexpected places.

In this thrilling third book in the #1 New York Times bestselling series from Sarah J. Maas, the earth will be painted red as mighty armies grapple for power over the one thing that could destroy them all.
QUOTES FROM THE SERIES-
I DO NOT OWN THESE IMAGES.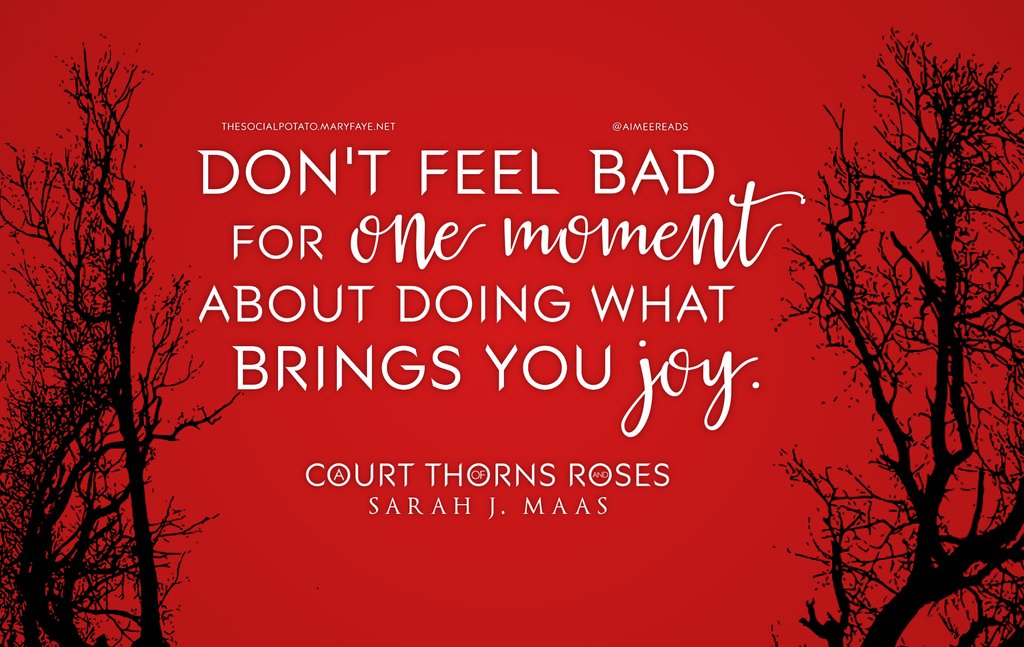 Some more amazing quotes-
Pity those who don't feel anything at all.
I threw myself into that fire, threw myself into it, into him, and let myself burn.
He thinks he'll be remembered as the villain in the story. But I forgot to tell him that the villain is usually the person who locks up the maiden and throws away the key. He was the one who let me out.
When you spend so long trapped in darkness, Lucien, you find that the darkness begins to stare back.
Many atrocities, have been done in the name of the greater good.
"Did you enjoy the sight of me kneeling before you?"
You belong to all of us, and we belong to you.
MORE INTERESTING STUFF ABOUT THE BOOK-
The cover of A Court of Wings and Ruin was adapted from a fan-art by an Instagrammer. Here it is:
Fan-art by Charlie Bowater
AMAZING ACOMAF MEMES-
So, there are like thousands of ACOMAF memes. I tried to keep it down.
I DO NOT OWN THESE MEMES.
I tried to make this post as interesting as I could. Hope you guys found it fun!
Sincerely,
Reader
xxx