Hey Readers!
I was nominated by amazing Chelsea @ Spotlight on Stories. She reviews books, plays, musicals and it's lovely to read them. Go check her blog, it's magnificent! The tag was created by Not-So-Modern-Girl, she has a lovely blog and kudos to her for her stupendous work! This tag is super cool and I am very excited to do this.
RULES:
Create your own listicle tag, using the prompt from the person who tagged you.

Tag the creator of the post (not-so-modern-girl!) so that I can read all your brilliant posts and see how the joy of listicles is being spread.

Nominate as many people as you want!

Set those 5 people the subject/prompt of their listicle post!
Chelsea's prompt: Non-human characters! Who are your top 5 non-human characters?
LET'S DO IT!
1) The Suriel from A Court of Thorns and Roses: He was my favorite character in the series! The Suriels are faeries which answer questions when captured. They aren't capable of lying.
*Spoilers for those who haven't read A Court of Wings and Ruin*
I think his character portrayal was out-standing right from the first book. He has been described as tall and thin, veiled in dark robes with a hunched back, and cracked fingernails. He was first captured by Feyre, the protagonist of the book, when she was looking for answers, when he told her "Stay with the High Lord and live to see everything righted in the world." Later, in the sequel we get to know that he actually meant Rhysand, the High Lord of the Night Court, who is her mate, and not her previous lover, Tamlin, High Lord of the Spring Court. In the conclusion to the series, after being captured for the third time, while giving Feyre answers, he was shot by Ianthe with ash arrows (deadly to faeries) and died. We literally witnessed our emotions grow from being scared of him to loving him!
His death was probably the most beautiful when he uttered those words, "Feyre Archeron…a request. Leave this world…a better place than how you found it." 
2)Festus from Heroes of Olympus: Festus is an automaton dragon created by the old Hephaestus cabin. Festus was created to defend the camp from monsters before Thalia Grace was turned into a tree by her father to save her life. However, about fifteen years before Percy Jackson's arrival at camp, he malfunctioned and ran off into the woods, where he eventually broke down. His body was somehow buried in the ground and he was lost for a long time.
Festus was something that left us all spellbound. He was just a machine in the starting but eventually we came to recognize him as Leo's buddy in the starting and later as a part of the demigod family. There are many incidences in the book when Festus saves the life of all the Seven demigods chosen by the prophecy. At the end of the series, he helped Leo save Calypso, the daughter of Atlas, who was sentenced to Ogygia. We all loved him simply because how spectacularly he proved to everyone that he much more just a machine.
You named him Festus? Do you know in Latin, Festus means 'happy'? You want us to save the world on Happy the Dragon?

-Jason, The Lost Hero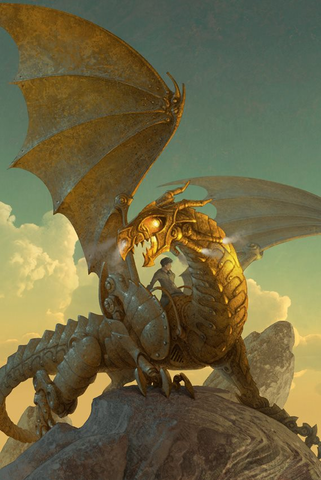 3) Iko from The Lunar Chronicles: Iko is an android that belonged to the Linh family and a friend and confidante of Linh Cinder. She was Cinder's friend through the whole series and I loved to see her character grow. Her and Cinder's friendship was the most inspiring one. Time and again, she proved herself to be strong and trustworthy. Due to Iko's faulty personality chip, Iko's emotions almost perfectly depict those of a human's, which made me love her even more.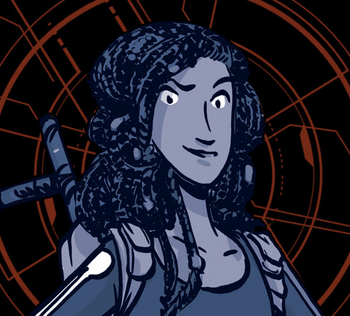 4) Nemesis from Diabolic: She is one of the strongest protagonists who belong to a technologically advanced universe. Nemesis is a diabolic and she is not "supposed" to have human feelings. However, as the plot gains pace, Nemesis starts to feel what she is not supposed to. She starts having feelings, human feelings, she cares, loves and feels sad.
Her character was beautifully portrayed. She was strong and even with all the sass, she didn't become like I-KNOW-IT-All protagonists (which I hate). I loved her very much and even amidst all the sci-fi the author did a great job in showing her more human than any human I know off. When you read the book and you'll understand what I mean.
Everyone believed Diabolics were fearless, but in my earliest years, all I knew was fear.
5) Bone Carver from A Court of Mist and Fury: He was again an amazing non-human character! The Bone Carver is a immortal being of immense power from another dimension that the Prythian Fae refer to as one of their "Old Gods". He and his siblings are referred to as "death gods", because their powers allow them to eat life itself.
He had this amazing ability to glamour himself, who when met Feyre for the first time showed her and Rhysand's first born. In the third book we get to know that the child Feyre sees is actually her own. It was one of the amazing parts of the book that left most of us awestruck. Finally, in the end, the Bone Carver dies due to an attack by the Cauldron. He had smiled at Feyre just before dying implying that he knew he would die.
He was one of the most amazingly mysterious characters of the book.
PS: I would like to thank Aadrika @A Tepid Wary for helping me with ideas for this book tag! I swear I couldn't have thought of anything if it wasn't for her! ❤
My Prompt: Death. What do you think are the top-5 most beautiful deaths in YA literature?
I NOMINATE:
A Tepid Wary /  Icebreaker694 / Keep A Readin' / Book Slayer Reads /  Blame Chocolate
No pressure, it's completely up to you whether you want to do this tag or not.
Sincerely,
Reader
xxx